Learning
Blended Learning Explained
The next stage in developing more independent, capable learners. 
Blended Learning is a term used around the world. As its very name suggests, 'technology' is blended into lessons alongside more traditional teaching and writing. 
The benefit of blended learning is that it opens up lessons.  Students can become even more independent.  Strategic planning allows the teacher to give more time for discussions and higher-order thinking activities which are personalised during face-to-face interaction and feedback. 
The online tools enable students to have personalised instruction which supports different pace and styles of learning.  Learning becomes more mobile and students are able to access reliable, up to date, stage appropriate resources at home. 
Blended learning in our context should not be confused with the similar named approach by some National assemblies as a Covid-19 response. At Kingsmead we are looking at blended learning as the use of technology in and outside of the classroom and not, as recently reported to also mean the alternation between time in school and at home.

Blended Learning at Kingsmead
Our school is hoping to use devices as part of blended learning. This wouldn't mean the end of exercise books and writing which are important. And teachers will still teach! Blended Learning and laptops will not replace the teacher. Instead, they will enhance learning and ensure that student-teacher interactions are more personalised.

In lessons, there will be the option for our students to complete their work using exercise books or laptops. Where the use of laptops is planned as a requirement for a lesson, school devices will be provided to students for the duration of the lesson.
You can see an example of Blended Learning already in action at Kingsmead by viewing this Physics Prezi (basically multi layered PowerPoints) created by Mr Summers.
Kingsmead's Virtual Classroom

Although there are software packages out there, we have found that they do not exclusively cover what our students do.  We want to ensure the material they have is varied, 100% relevant and challenging. We have therefore designed our own virtual classroom matching the subject schemes of learning created by Kingsmead teachers.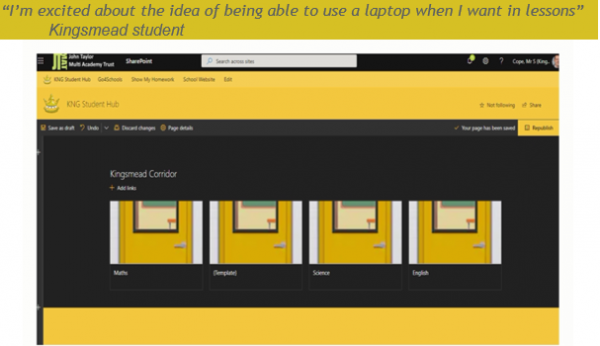 Navigating by subject and topic, they will choose their lesson. The students will then be able to use the range of resources (help desk and challenge station) provided through the virtual classroom to help themselves, answering the questions 'what do I do if I am stuck' and 'what do I do if I have finished my task and the teacher is helping someone else'? Of course, the teacher will still be there, but this makes the student more independent and gives practice at problem solving.