Parents
My Child At School (MCAS)
Bromcom My Child At School or MCAS is a new Parent system replacing GO 4 Schools.
MCAS has both a web and app version.
You can use MCAS to access information on your child 24 hours a day, including their:
Timetable
Attendance
Behaviour
Scores and grades (coming soon)
Progress Reports (coming soon)
MCAS – Web Version
The Widgets on the Dashboard will either display data that can be viewed at a glance, and/ or have a More button which will redirect you to the full page for that Module (i.e Reports).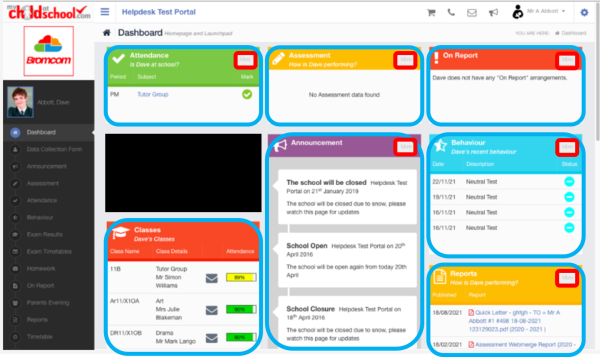 MCAS – App Version
Navigating the App version of MCAS works slightly differently to the Web Version of it because there is no Dashboard or Widgets, only Modules within the side Menu.
Instead, you will arrive on a Module straight away such as Attendance.
To navigate to a different Module, you would need to use the side Menu which is accessed by using the three horizontal lines on the top left of the App.