Academic Excellence
High Flyers Programme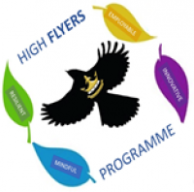 What is the aim of the High Flyers Programme?
The Highflyers programme is a bespoke pathway for top attaining students at Kingsmead in Year 7-13, with the aim of them being able to secure places at Oxbridge and Russell Group universities and becoming future leaders once they leave Kingsmead. 
The programme is designed to support, challenge, and inspire our more able students by creating a culture of raising aspirations, to give them the best possible chance of achieving their full potential at Kingsmead and beyond.
What does the High Flyers Programme offer?
The Highflyers programme is packed full of amazing opportunities to raise aspirations. By starting in Year 7, students will have maximum time throughout their school years to broaden their horizons, generate motivation to succeed, and explore their future. Through the Highflyers programme, students will be provided with opportunities that will:
·        Stretch and challenge them
·         Develop their employability skills
·         Explore their career and educational pathways
·         Allow them to visit Russell Group/Oxbridge universities
Examples of the some of the exciting opportunities the Highflyers have had this year to raise aspirations include:
Year 7 Cobra Day – Students formed a committee to respond to a 'disaster'. They developed their team working skills, communication, and organisational skills. It encouraged them to think outside the box and critically evaluate the best plan of action.
Year 8 CSI Day – Students examined forensic evidence to solve the crime, followed by a courthouse trial where they put forward their case to the judge. The day involved developing scientific skills, analysis and presentation skills.
Year 9 Engineering Event – Students investigated seismic waves and how they affected structures. It involved high level maths and application to real life scenarios.  They also gained an insight into Engineering careers and the Russell Group University courses that are available.
Year 10 Introduction to Super curricular activities – Students develop their research skills and look deeper into a topic they are passionate about. This prepares them for their 6th form and University studies. It can particularly support with the EPQ (Extended project qualification) which students will write in year 12.
Year 10 Oxford University Visit – Students enjoyed a tour of University College followed by taking part in taster sessions, meeting current university students and eating lunch in the great hall.
Year 9 and 11 Oxford University Presentation – Representatives from Oxford University spoke to students about the benefits of university, how to prepare for University, and what Oxford University can offer.
Year 11 – Birmingham University Trip – Students visited the Birmingham University Campus for the day and heard about the benefits of attending a Russell Group University, what it is like to be a student there and the courses on offer. 
Careers workshops – All highflyers will receive bespoke careers sessions that are designed to expose students to aspirational career choices and give them guidance and confidence to select the correct pathways to get there. They will also experience first-hand, visits to workplaces and receive talks from employers and employees from the world of work to give them an insight into what they could do in the future.
Creating Future Leaders - Student Leadership
Leadership is a key skill we want to develop in our highflyers. All highflyers in Year 7-9 will work towards gaining the SSAT leadership qualification. This is a holistic qualification designed to create responsible learners and develop employability skills. Students complete this by evidencing opportunities they take part in as well as their other amazing work they complete in school. The aim is for students to complete the Bronze award in Year 7, Silver in Year 8 and Gold in Year 9.  Highflyers in all years will also be encouraged to be part of the leadership groups we have available in school such as being a prefect, D of E, lead learners, enterprise team, etc.
Measuring Impact of the Programme
Highflyers' students will complete an Aspirations Questionnaire twice a year to measure the impact of the programme over time. This involves rating their skills based on the University of Oxford's top 8 employability skills, including Kingsmead's RIME skills, and giving their opinion on statements about their aspirations. Their Progress Leader will also monitor their progress across all subjects very carefully to ensure their attainment remains high. 
How do I become part of the programme?
Students are selected for the Highflyers Programme based on a mixture of prior attainment and their current attainment across all subjects. From this point, in order to remain part of the programme, they will need to consistently meet the
expectations outlined in the introduction session and continue to strive for the best. The programme is supportive, therefore if there begins to be a decline in attainment or attitude, targeted intervention will be put in place to encourage and support students to meet their full potential.


Can I join the programme at a later date if not selected in year 7?
Yes! There are several onboarding points each year whereby the programme is reviewed and students may be offered the opportunity to join the programme if they have been consistently demonstrating the skills and attitude we expect from our Highflyers students.
For more information about the Highflyers Programme, please email: k.greenwood@kingsmeadschool.net.