Academic Excellence
High Flyers Programme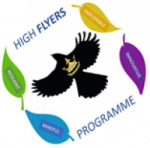 What is the aim of the High Flyers Programme?
The programme is designed to support, challenge, and inspire our more able students by creating a culture of raising aspirations, to give them the best possible chance of achieving their full potential at Kingsmead and beyond.
What does the High Flyers Programme offer?
The programme begins in year 7 when students join Kingsmead, and finishes at the end of year 11, when they will hopefully go on to join the Lyceum Society in sixth form. Throughout the programme, students will be provided with opportunities designed to raise their aspirations for the future, coupled with opportunities designed to develop the knowledge and skills needed to progress towards these aspirations. Some examples include themed cross-curricular days, trips to Russell Group universities, and careers workshops. By raising aspirations from year 7, students will have maximum time throughout their school years to broaden their horizons, generate motivation to succeed, and explore their future. High Flyers students will complete an Aspirations Questionnaire twice a year to measure the impact of the programme over time. This involves rating their skills based on the University of Oxford's top 8 employability skills including Kingsmead's RIME skills, and giving their opinion on statements about their aspirations.
We want students to be able to evidence all of their fantastic work throughout the programme, therefore in KS3 the opportunities they take part in as well as their other amazing work in school will be used as evidence towards the SSAT leadership qualification which they will achieve by the end of year 9. This is a holistic qualification designed to create responsible learners and develop employability skills. Then in KS4, students will use research platform JSTOR to develop skills needed to complete the EPQ at sixth form and essential skills required at university. Sound good? Take a look at our learning journey at the bottom to see how your path could unfold.
How do I become part of the programme?
Students are selected for the High Flyers Programme based on their attainment across all subjects. From this point, in order to remain part of the programme they will need to consistently meet the
expectations outlined in the introduction session and continue to strive for the best. The programme is supportive, therefore if there begins to be a decline in attainment or attitude, targeted intervention will be put in place to encourage and support students to meet their full potential.


Can I join the programme at a later date if not selected in year 7?
Yes! There are several onboarding points each year whereby the programme is reviewed and students may be offered the opportunity to join the programme if they have been consistently demonstrating the skills and attitude we expect from our High Flyers students.
For more information about the High Flyers Programme, please email r.hall@kingsmeadschool.net.