Joining Us
Why Choose Kingsmead Sixth Form?
What makes us special?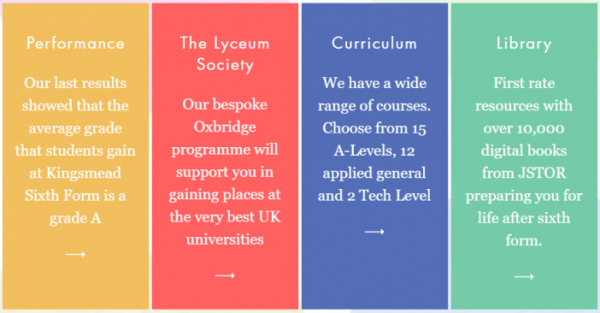 Kingsmead Sixth Form is rapidly growing, and the reasons are clear to see…
We are a vibrant, popular and successful Sixth Form with a proven track record of strong outcomes, which includes an average A-Level grade of an 'A-' and a vocational grade of a 'Distinction*-'. In January 2021 our students achieved phenomenal results in the examinations that took place nationally. These external exams were marked formally by exam boards and examiners, and we saw over 50% of our students achieve the highest possible grade; a Distinction with a 100% pass rate.
We have an incredibly broad curriculum that includes a whole host of courses available including traditional subjects such as Further Maths, Physics and Chemistry to new and innovative subjects such as Animal Management, Criminology and Law. Our intervention methods support the initial high-quality first teaching that students receive within our Sixth Form. These support mechanisms are robust, skill-focused and student-centred.
What makes us different?
Life in Kingsmead Sixth Form is always exciting and interesting. We make learning fun, innovative and engaging. Our Criminology students visit the on-site 'Murder House' where a gruesome crime has taken place and must search for evidence and take fingerprints – remembering not to contaminate the crime scene of course! When the Animal Management students aren't studying outside in the Kingsmead Farm, they are taught by subject specialists in conjunction with the Exotic Zoo Telford in our very own Exotic Animal Centre in the presence of Cindy the Snake and Tilly the Tarantula to name a few. The Room of Curiosities, Maths Innovation Room, Forest School & Zipwire, Language Village, Murder House and Outdoor Classroom are all rooms and facilities utilised and enjoyed by our Sixth Form students.
Our upcoming expansion...
Our recent academic successes and rapid growth in numbers have meant that our current Sixth Form block consisting of 50 computers, 4 study rooms and a kitchen area is going to need expanding!
Do you want to come and see our facilities and school site for yourself? Contact m.russell@kingsmeadschool.net for more information.