Academic Excellence
Student Leadership
Student Leadership at Kingsmead​
At Kingsmead School we believe in nurturing innovation and high-quality learners through the development of personal growth and leadership. All students will be given the chance to develop their leadership skills and personality characteristics in preparation for a contemporary and challenging world. We strongly believe that leadership and personal development are connected; great leaders are people with good personal strength, resilience, innovation and mindfulness.​

The qualities we develop allow students to live, collaborate and learn with others with a positive and mindful moral code. The programme enables students to recognise how to behave morally, for the right reasons and in the correct way. ​

At Kingsmead School we have a specific set of values that underpin all aspects of school life. Our values are Resilience, Innovation, Mindful and Employability​.

The aim of our programme is to make sure that our students are able to thrive and become their best self. We ensure students know what it is that makes a good and mindful person. This happens in a number of ways, some of which include: ​
Working in and supporting the local community​

Understanding and following laws and rules​

Respecting and standing up for the rights of others​

Being mindful or others and their property​

Taking responsibility for their own actions
During the academic year all students are educated in leadership, public speaking, resilience, innovation, mindfulness and employability. They get the opportunity to take part in the democratic process, voting for representatives, leaders and captains. These tutorials and activities not only take place in lessons but in a purpose-built tutor group curriculum.​
Our leadership activities are aimed at developing self-confidence, self-esteem and personal responsibility in our students. There are specific roles for which students apply and are then elected by means of a democratic process. Students are voted for by staff or by their peers depending on the role. The programme is designed to be student-orientated. Student leaders work closely with staff in order to prioritise issues and projects that are important to the specific year group or area. ​
 ​ 
​Student Leadership Accreditation
The Student Leadership Accreditation (SLA) is an innovative way of recognising students' leadership skills and the impact that they have in the classroom, across the school, and in the wider community. Students assess themselves against this framework and then actively seek opportunities to advance themselves and gather evidence to showcase their new skills in a portfolio. Students can work towards the SLA at three levels: bronze, silver, and gold. This process encourages students to:  ​
Critically self-reflect on their own skills as leaders

Work collaboratively to plan how they will meet the criteria and evidence it

Organise and structure their evidence

Peer assess others' work against criteria

Aspire to take on increasingly challenging leadership responsibilities.

To become more engaged and therefore autonomous learners, particularly those that are underperforming.
There are 4 steps to the accreditation process:

Step 1 – Self reflection
Students should assess themselves against the ten strands of the criteria grid. The levels are either bronze, silver or gold.  After reflection students record the levels that they are currently at and then use this to plan their next steps.
Step 2 – Evidence collation and portfolio creation
Students will then need to gather evidence to prove they have reached the level they are aiming for. This can be from activities they have already done or it might require them to take part in some new activities so they can gather evidence for a particular strand. At least one piece of evidence should be collected for each of the strands. This evidence can be anything from letters and certificates to video stills and web screenshots. For each of the ten strands, candidates should write a supporting statement to supplement their evidence. ​
Step 3 – Peer moderation
When a group of students have completed their portfolios a moderation session should be set up. The peer moderators should go through the evidence provided by the other candidate for each of the strands, and assess whether the work reflects the skill level and if the evidence is clear.
Step 4 – External moderation and accreditation
Once all the moderation sessions have been completed and all is agreed, a sample of the portfolios are sent away to SSAT for external moderation. Accreditation will then be awarded.
Student Council
The Student Council is made up of a broad range of Kingsmead Students. This allows us to gain the opinions and judgments from students who have different talents, skills, abilities and passions. ​

The council is led by Miss Pearce along with the Head Boy and Head Girl. They are supported by the Deputy Head Boys and Girls, and the Sixth Form Leadership Team. Following them are 2 representatives from each of a student Leader teams, ranging from Lead Learners, Sports Captains and the Wellbeing Team etc.​

The council have devised their own School Improvement Plan using their own judgements and the areas highlighted by the School's Improvement Plan. Four targets, which link to the RIME values, are worked on throughout the year. Each one starts with intent, students plan what they can do to make improvements, this then follows through to implementation of their ideas, making those improvements and finally, students measure the impact ​their improvements have had, reporting to the Senior Leaders on a termly basis.​

The student council were asked to design and deliver a Student Charter. Each member of the student council wrote their own set of criteria, what they believed were important expectations of the students, student leaders and the staff. These were collated, discussed and narrowed down to five expectations for students, student leaders and staff. We now have our own charter on display around the school.​
Student Leadership Conference
The Student along with the Lead Learners are invited to an annual Kingsmead Student Leadership Conference.​
They day consists of the students listening to a variety of speakers, from both in the school, the JTMAT and the local community. This year involved Mrs Mincher, Mr Donoghue, CEO, and Sheila Morrow, Youth Committee Chair for Cannock Rotary Club.
Students learned about the school improvement plan for the next 12 months and had the opportunity to voice their own opinions. The were taught by Mr Cope on the pedagogy of education, giving them insight into how students learn and what makes a great lesson. They now can be used to help improve our educators from good to outstanding.​
Sheila Morrow highlight to the students the opportunities for them locally and internationally. With Mr Donoghue they learned about the importance of strategy and planning. Finally they had the Head Students discussing their ideas and initiatives for the school.
The students then started to work on their own Student Improvement Plan, looking at what they could do, based on the information learned during the day, and how they can strategize their ideas. The students had a great day, feedback from the leaders suggests their understanding of the school improvement plan improved from an average of 2.5 to a 4.2 out 5 and 95% thought the day was beneficial, they "enjoyed learning about the school improvement plan". What a great success! 
RIME Funding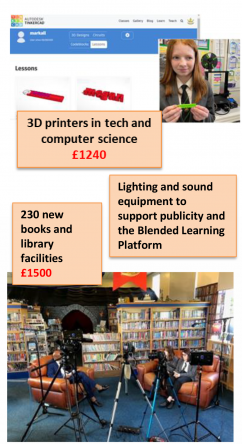 The students are the most important stakeholders in our school, so why should not they have a say in how the money is spent and how we shape our school. Therefore, we have created a RIME Budget account of £20,000. At three separate times throughout the year, staff will be able to apply for funding to help develop their initiatives and projects. The applications go through a short-listing process run by the Student Council and then a final presentation round, again judged by the Student Council. It gives the students a say in what they want and how the school is built. It gives them a responsibility and an input into what they believe is important. Students are each given a summary of the School Improvement Plan and a success criterion to judge the applications against. Last year they awarded £15,551.35 to 11 different initiatives. Computer science and technology were awarded £1240 to buy 4 3D printers, these were built by computer science and have since been used in year 10 and rotation lessons in technology, they havealso set up a 3D printing after school club. The library was awarded £1500, buying 230 new books and the shelving to house them. You may have noticed our school has been making some fantastic videos and podcasts, and has captured amazing memories using photography, this is all down to Kingsmedia's RIME funding application for sound and lighting equipment. To help improve the school's numeracy, the Maths department applied for, and were awarded £1035 for 11 wireless tablets, allowing them to improve teaching, develop staff and complete live modelling, an excellent way to support students in their learning. What other school can say they have a Murder House and a farm?! Well, the RIME Funding has helped buyequipment and resources for these, including ducks and goats. On open evening we had comments from parents such as, "WOW, I wish we had this kind of opportunity when I was at school" and "Can I come and be a student here, I'd love to study Criminology." There have been smaller purchases too, £670 for music to buy portable speakers improving their lessons and productions, £85 for a metal detector to help foster the interesting of those who attend metal detecting club. We have many after school clubs in his school and are leading the way against others in the area, one of the winning initiatives was to set up an AQA award scheme for students who attend clubs, they complete a series of activities in their areas and receive an accreditation for their efforts.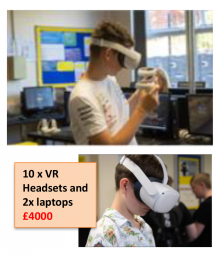 The biggest amount awarded was for 10 virtual reality headsets and 2 laptops costing £4000. These were used on the activity days and were loved by all the students, and staff, who had the opportunity to have a go. They are a bookable resource for all staff to use, enabling students to step into another world whether it be a human cell in science or a gallery and museum.
The programme was truly successful last year and will continue to develop and grow. 100% of the student councillors believed it was a great opportunity and had a positive impact on the school. It gives them the chance to build and shape a school they want at the same time as gaining greater understanding of how leadership works and what it takes to run a school. in art and history.
Teacher Statements:

"The Music Department decided to submit a bid to the RIME fund because the audio speakers in both the music classrooms were old and losing clarity. We also wanted a simple way to play examples of students' music performances on the computers in A02. We would have struggled to afford this new equipment within the music budget, but we knew would make a real impact to the learning of our students. The RIME application process came at the perfect time! We had to complete a proposal form detailing the equipment we were bidding for and how we believed it would benefit Kingsmead students. A few days after we submitted the proposal, we received the news that we had been shortlisted and the next stage was presenting our pitch to the Student Council. During the presentation, the students involved were so well-informed and had some really insightful questions. We were so pleased to have our bid approved and we were able to order the equipment straight away. It has made such a difference to the listening and extended writing activities to have high quality speakers in our classrooms and we are particularly pleased with the portable speaker which allows us to listen to music examples on any of the student computers.
Overall, the RIME fund bid has been a very positive process for the Music Department, and we are so grateful for the support of the Student Council."
Mrs C. Williams

"Technology and Computer Science put a bid in for 4 3D printers, this is to advance both departments further and strengthen those cross curricular links between the 2 subjects. The future is CAD/CAM, using laser cutters and 3D printers to manufacture stuff and we thought it would be a great opportunity to train the students up for the future. Process involved writing a short statement linked to our proposal, including the costs of everything required, this was very straightforward to do and super exciting writing out why we as a team would want these 3D printers. This went through a process of elimination, and you then received an email which confirmed you had got through to the next round, which was the presentation round. We all stand in front of students for our jobs, however I felt a little nervous pitching this to the student leadership team. However, after the presentations, they deliberate on whether you will be awarded the money and luckily for computer science/technology we got the green light to buy the 4 3D printers! They arrived super quick, and the fun began, first we had to build the printers then we had to get them up and running. However due to COVID we are still yet to get the students to print their designs out but watch this space. Even during this lockdown, students are using the software which links to the 3D printers, so when they return, we can use them straightaway. The overall aim to run afterschool clubs using the 3D printers to print and programme models with computer science."
Miss H. Andrews
Interact
Is a team made up of 6th form leaders and year 11 extended senior leaders. They work together, supported by Cannock Rotary on 2 projects a year.
This year they are raising money for Kingsmead's Hardship Fund. Helping those families who are struggling in the current economical crisis. They have created a food bank with in school, advertised on social media and in lesson times asking for donations to help feed Kingsmead's families. There second project is international, helping the other families who are effected by the war in Ukraine. To do this they have researched into what the families need and the best way to support them. Raising money means the charities can target specific needs of the Ukraine people.